15/11/2022
Record set
---
Never seen !
A record collective signature
The previous record was 58 entries for Claire's birthday.
He was dethroned for the retirement of Armand who recorded 63 participations, exceeding the ceiling usually set of 60 participants.
The number of participants corresponds to the number of guests who answered the questions of the word harvest.
They represent 80 to 100% of the guests.
Their signatures appear in the center of the Bouquet of Words in alphabetical order.
It is the collective signature.
63 co-authors, new record to beat
When the Bouquet of Words is handed over, an introductory letter is attached.
"After several days of harvesting, from September 23, 2022 to September 27, 2022, 63 signatories deliver to you, in graphics chosen for you, 3262 words, 17988 characters.
They express:
172 memories and anecdotes that marked them
40 ways they refer to you
131 adjectives that describe you, some of which are represented in capitals for having been repeated several times
57 personal messages."
Antoine, on the initiative of the realization of the Bouquet of Words, on the advice of Florence, returns by Whatsapp:
"Armand is over the moon with his painting"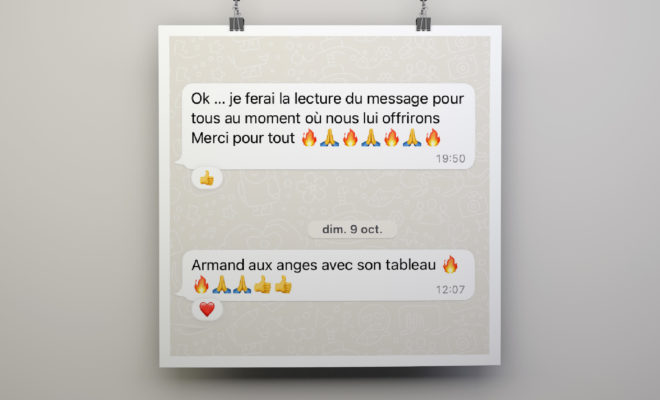 Maximum emotion at the presentation of the Bouquet of Words
---