26/07/2022
More unique, than unique
---
First Bouquet of Figurative Words
Created from a reworked personal photo
For Marc's 50th birthday, Isabelle, his wife, wanted to give him a Bouquet of Words. With about forty people around him for the word harvest, the result is more unique than unique. It is an interpretation of one of Marc's photos, lying in profile in a familiar landscape.
How did the idea come about?
Browsing through the catalog, she couldn't find a design that suited her. She then contacts me to start with a stylized photo in a comic strip style.
She attaches me some photos that seem relevant to her.
Even if the origin of the Bouquets de Mots was not in the figurative sense, one of the photos presents Marc in a landscape. This photo allows you to imagine flat areas of color to accommodate the words. I make a model to illustrate my idea. It's validated by Isabelle !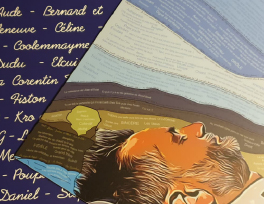 The Bouquet of Words and its personalized envelope
At the end of a little more than 2 weeks of harvest, from June 2, 2022 to June 21, 2022, 54 signatories deliver to him, in a graphic design chosen for him, 1789 words, 9616 characters.
They express 125 memories and anecdotes that marked them, 22 ways they have of designating Marc, 69 adjectives that describe him, some of which are represented in capitals for having been repeated several times, and 41 personal messages.
A new opportunity to create for someone who matters, this completely unique Bouquet of Words, in their image. Thanks to Isabelle for her trust.
Welcome to the celebrated people who really matter !
"I received from my wife an exceptional gift for my birthday. A magnificent painting composed of phrases and key words that my friends and loved ones wanted to share with me. An incredible emotion invaded me when I unwrapped my gift . Wouaouw. Thank you Catherine for this work and the beauty of the result Congratulations again!", Marc I.
I received an exceptional gift for my birthday. An incredible emotion came over me when I unwrapped my present. Wow.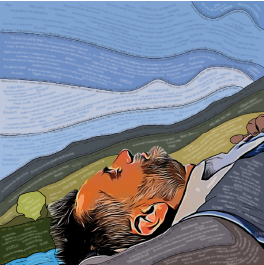 ---